Perfectly designed for sea lovers
Seasoned sailor or first time on board? We have a sea of choices for every taste.
Your dream boat awaits
Easy booking for yacht charter holidays. 100% real time availability. Instant booking.
Sail for Smile
Support a good cause. Let us make a donation on your behalf with your booking at no additional cost to you.
Top Destinations for Sailing
Top Regions and Cities for Yacht Charter
Our fellow sailors love us
Check out what fellow sailors are saying about us
Quality
Best boats in Mediterranean hand-picked by our team of experts
Transparency
Full lists, no hidden costs, no surprises! See the names of boats and charter operators
Good Advice
Reliable and independent ratings, best destinations map guide, fun sailing blog
Insights
These days we are all in a sea of uncertainty, not knowing which way to swim. Until we can feel free again, most of us are isolated at home, and practicing social distance whenever we are out. In the modern world where we have long become control freaks, it's like the ground is slipping away from under our feet, which results in an imbalance in our mood and emotions. Anxiety and fear seem to be the common feelings throughout the world these days.
Continue reading
Marinas
The Rhodes Marina near the medieval town of Rhodes is home to an exquisite community all year round, and it is located in one of the most attractive areas on the island. Along with the social facilities...
More about this marina
Charter Operator
The Yachting Club offers charters of sailing and motor catamarans. If you dream about spending holidays on the water, our yachts are the perfect idea for you.
More about this operator
Marinas
Marina de Portimão is encircled by some of the most beautiful beaches of Europe and is located in the safest harbor of the country surrounded by historical forts of Santa Catarina and São...
More about this marina
Insights
When the high season is over, then comes a time which only the luckiest charterers can enjoy. The wind and the sun are both gentle, the sea water is still warm. And yes, the boat prices are sweet.
Continue reading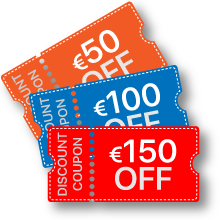 Register & win up to €150 promo code